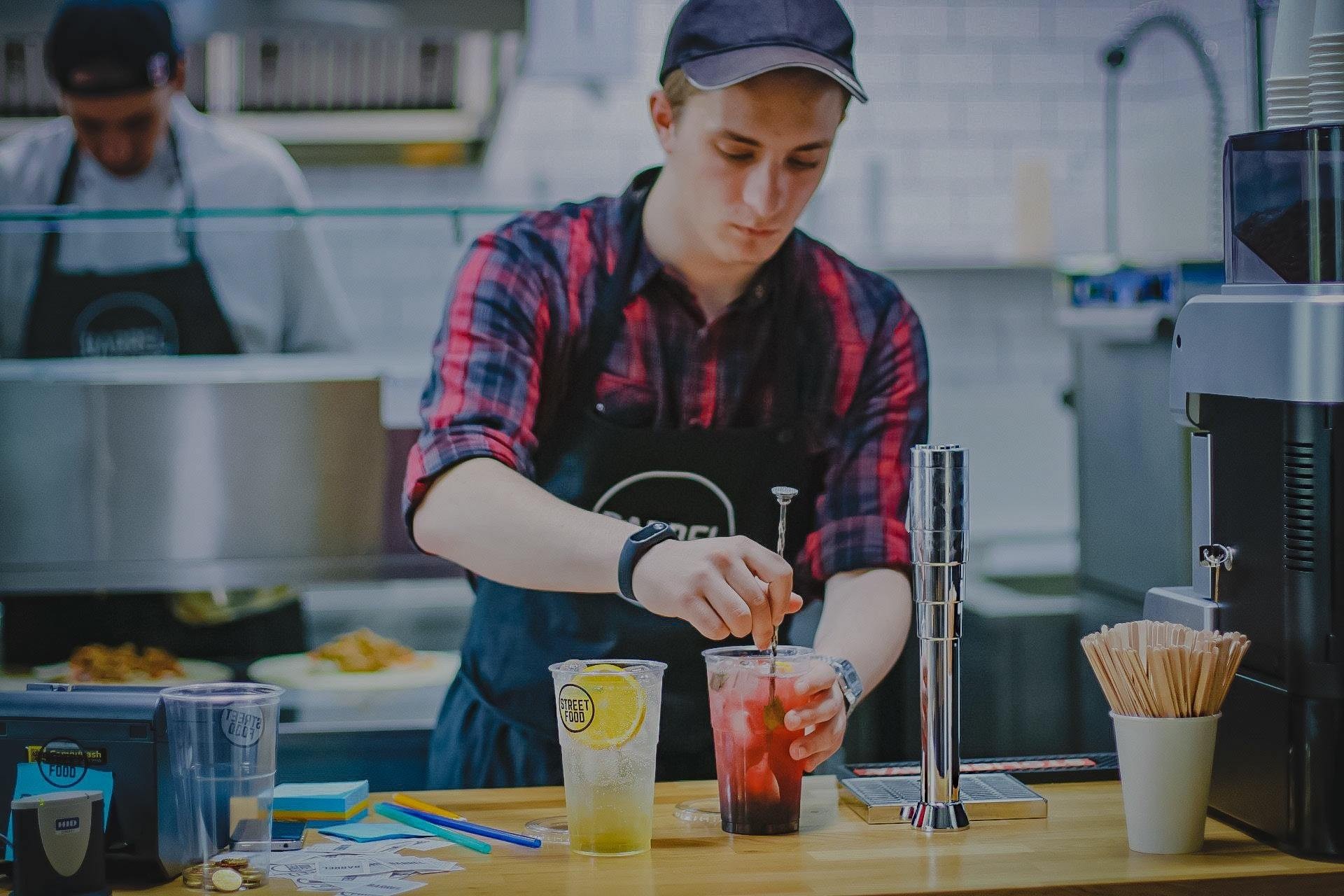 I work in a really weird café.

It's two managers, a cook and me. It's a chain, but I won't name it. We serve coffee and sandwiches, pretty much.
In my life, I've never seen such bad customer service. From the managers, on top of it all. But the people who work in the offices above us keep on coming. There's another café downstairs, but they still come to us. Weird.
The owner (I'm guessing that's his position) doesn't notice when he's alone behind the counter and a customer comes for coffee. He keeps on looking at his phone, watching wrestling matches or reading the news. Sometimes the customer is too shy to say anything and just waits there. I'm further away, sweeping and I have to walk all the way to the counter, say hi and start washing my hands before my boss gets his nose out of his phone and realize what's going on.
Instead of letting me sweep, get rid of that chore and having a clean table area, he makes me go back and forth to serve the customers. I take so much longer to clean and I take longer to serve the customers as well because I need to get there, wash my hands, then start the service. If you knew how many times a day I wash my hands and, therefore, how dry they are, you'd find this ridiculous too.
And the idea that all of it doesn't make sense would never cross his mind. That it takes longer to do everything, that I wash my hands a hundred times a day, etc. It all goes by above his head as he comfortably stays in denial land.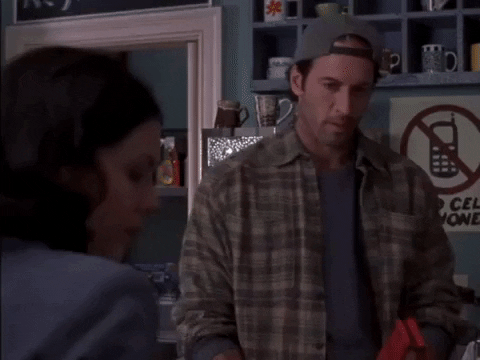 He's really sad to be around, to be honest. My friends have told me to get out of there as soon as possible, but I'm kind of doing an experiment. I'm curious about how oblivious he can get. It seems to grow darker and deeper.
There's this customer who comes like once a week. I'm nice with him, I remember his order. But almost every week he mentions to my boss that I should be wearing a hairnet and gloves to prepare sandwiches. He's probably right, but I was never even offered any of these things and nobody wears gloves anyway, not the cook, no one. He is the only one to notice or complain about it, so we find him a bit annoying and then we move on.
The situation is very disturbing. It happened again lately and I started thinking, well, should I do something? Should I go buy the stuff and make it better for that single customer who seems to be bothered? Honestly I think that's my managers' responsibility.
It reminded me of the time, when I started working there, when the owner told me to get myself that sort of cap that you see sometimes on restaurants' employees. He said he would reimburse me of course, but why should I have to do that in my free time? The guy gives me 20 hours/a week, minimum wage, and he wants me to run errands for him? That's not clever, bocco!
I never did get a hat and he never mentioned it again. Eight months later, still no hat but we're getting complaints from that customer. Zero follow through.
After a month or so of working there, I got tired of using the old broom they had there. I asked if we could order a new one. I said I thought it would make sweeping faster. For some reason, they answered nothing specific, they mumbled something that seemed like a no. So I left that day, went to the dollar store and bought a broom myself.
They said thanks, they reimbursed me. One of them said it was a "good gesture", whatever that means, and then they started complaining that the broom was a little cheap. I wanted to strangle them!
I've been employed a lot. I've been screwed over by most of my managers and because of the lack of good leadership examples in my life, I totally messed it up when I had the chance to be a manager myself. I had no idea how to make people work for me, or with me. I had no power of inspiration, I didn't make any jokes to lighten the mood and I hated my employees for not cooperating. I am totally aware that I handled this wrong. If I compare myself with some of the bad managers I had in my life, there are similarities.
That is basically why I started this blog. The cycle of bad managers training people to become bad managers has to stop. It's ridiculous.
We shouldn't blindly promote the people who can do their job well with no proof of their leadership level. It's so hard to go from employee to manager and most people don't do it well... There is so much to learn and you gotta want to learn it. Unfortunately, most people have no clue they're being unprofessional. So they keep doing badly at their manager job, being rude to their employees, feeling proud of their overall success and salary.
I'm mostly talking of companies in which you start at the bottom and make your way up. I think there's a serious lack of management graduates in those companies and it affects them more than the owners seem to realize. I'm not saying I have the key to that simple question. They probably know that educated managers would be best for them, but then they don't want to pay to get that kind of manpower.
Also, diplomas are not necessarily the answer. I've been reading books on management and noticing things in my everyday life; that's learning to become a better manager right there. People are allowed to make mistakes and to start before they're entirely ready. But you gotta want to apply what you learn on the way and try not to make the same mistakes again. Keep on learning things, that's what life is.
Update: I wrote this a few months ago, but as of the publishing date, I no longer work there. They were driving me crazy, I had to leave for my mental health. I used this experience to create an E-book on how to make your business better (which you can find here by signing up!). They've given me so many faux-pas examples that they've become a never-ending source of inspiration! Who would have thought? :P
So let me know in the comments, have you ever had a boss this bad? Rude with you, useless with the customers? Tell us your work anecdote below! :)
With love and merriness!
Ariane